This season it actually looks like there might just be a title race in the Premier League with Manchester City, Liverpool and Chelsea currently battling it out for top spot. City and Chelsea represent the nouveau rich element of English football and neutrals understandably find it hard to get behind these teams.
Because of that, Liverpool's style of play and Klopp's cult of personality many neutrals are willing The Reds to win the title this season. Ultimately though that would be terrible for football and anyone who isn't a Liverpool fan and here's why.
The Endless Bragging
Liverpool last won the league title 28 years ago before the inception of the Premier League that we know and love today. To put that into perspective, here are a few things that have happened since the title last went to Anfield.
The Soviet Union fell
There have been two Gulf Wars
Margaret Thatcher who was Prime Minister when Liverpool won the league has since been ousted from power and died
Ryan Giggs has won 13 Premier League Titles
Leicester City have won the League Cup, been relegated to League One, promoted back to the Premier League, won the Premier League and played in the Champions League
Mo Salah, Virgil Van Dijk, Naby Keita, Andrew Robertson and Xherdan Shaqiri have been born.
Yet one thing remains the same, Liverpool fans do not shut up about how massive they are. It's impossible to go a week without a plastic Liverpool fan from Milton Keynes telling you how many league titles they've won.
When Steven Gerrard pissed away the league for Liverpool a few seasons ago it was greeted with a collective sigh of relief by the football world, who had already grown tired of Liverpool's pre-title crowing.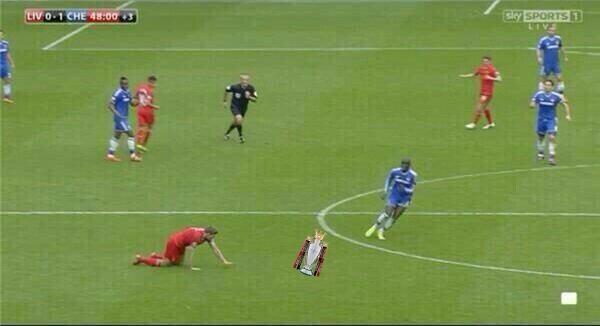 If Liverpool win the league this season it will be worse than Brexit. You won't be able to turn on the TV or the radio without hearing about a Liverpool fan that's had Klopp's face tattooed on his head, an MP for Liverpool telling you how amazing the city is. It will be a shit show.
The Money Argument
Everyone moans about the amount of money that Manchester City have spent in the past few seasons, and rightly so. But Liverpool have blown a heap of money in that time too, they spent £75 million on Virgil Van Dijk when Brendan Rodgers had the chance to buy him for £2 million a few years earlier!
Alisson, Keita, Shaqiri and Fabinho have all come in this summer for mind-boggling amounts of money. If Liverpool win the league it won't be a victory for football, it will be a victory for capitalism.
Tottenham Hotspur winning the league would be a victory for football as they've had a net spend of around 14 pence over the past decade.
The Style Argument
Liverpool are lauded as the 'entertainers' in the Premier League and they may well have been last season. Yet this term their football has been nothing more than a snooze fest. They grind opponents into submission and never appear to get out of second gear in an attacking sense.
They've also been lucky too, against Cardiff they were fortunate to win after conceding a whole host of chances to Neil Warnock's struggling side. They travelled to Huddersfield the previous week and shithoused a 1-0 victory.
The Reds had 1 shot on target at the John Smith's Stadium, conceded a goal that was wrongly ruled out for offside and got away with a blatant hand ball in the penalty area. No neutral can get behind a team that plays like this.
The Quiet Fans
One of the biggest myths in football is how intimidating Anfield can be for visiting fans and teams. On a European night it is said to be a cauldron of noise and passion. But have you ever been to Anfield?
It's deadly fucking silent. The stadium is full of day trippers with their camera phones all dreaming of getting a selfie with a fucking ball boy. You'll never walk alone is piped out over the speakers at the beginning of the game and then the fans sit back in their seats and wait to be entertained.
The Anfield atmosphere is an absolute joke, and we can't possibly see those boring, consumerism fans rewarded with a Premier League title, it would be a travesty.
Summary
For the good of football and the collective sanity of football fans across the world Liverpool CAN'T win the league. All in all they're a hateful club, supported by whining hypocrites. With that in mind, come on City, come on Chelsea, come on anyone but fucking Liverpool.